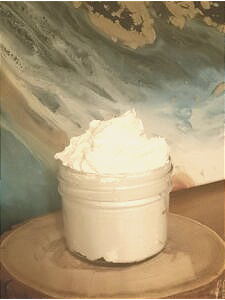 There is nothing better than a whipped body butter during the winter months for dry skin. With the air dryer and heaters on, skin drying out is going to happen. Making sure we stay hydrated is so important but having something to use topically to help soothe and moisturize is super helpful!
Watching what we put into our bodies matters but do does what we put ON our body, on our skin. What we use on our skin can have a huge impact on our health. Many creams and lotions available can contain ingredients like formaldehyde, 1,4-Dioxane, phthalates, artificial coloring, and petroleum which some are known to be carcinogenic. They can also contain hormone disruptors like parabens and triclosan and the biggest one of all… "fragrance", which can hide almost anything under that label.
It doesn't have to be crazy and scary and confusing though to figure out what is ok to use. My DIY Body Butter is quick to whip up (pun intended HAHA) and you can pronounce all of the ingredients. There are no chemicals, just the good stuff that will support your skin and your body.
Here is what you will need.
Ingredients:
Optional 15 to 20 drops of essential oils
Equipment:
A glass bowl
A small saucepan (You will make a double boiler with the glass bowl so make sure the bowl is bigger than the small saucepan.)
A hand mixer
Spatula
A Kitchen Scale (It makes measuring things out a lot easier with these ingredients.)
What is all of this stuff good for? So glad you asked!
Shea Butter is a fat from the nut of the African Shea Tree and is VERY moisturizing while it also absorbs easily. It has a high concentration of vitamins and fatty acids including linoleic, oleic, stearic and palmitic acids. It doesn't clog pores and is appropriate for nearly any skin type. It is also anti-inflammatory, antibacterial, antifungal, has antioxidants, and can help promote cell regeneration. Basically, it's amazing!
Coconut Oil is a staple in every crunchy home. Not only is it great to cook with but it is also amazing for skin. It is also rich in fatty acids, is anti-bacterial, anti-fungal, antimicrobial and can reduce inflammation too! I do avoid coconut oil on my face though as it can clog your pores.
Jojoba Oil is one of my absolute favorites for skin, especially the face. It is also anti-fungal, antimicrobial and amazing for moisturizing. It also contains natural forms of Vitamin E which works with your skin as an antioxidant. This can also help minimize the appearance of scars when used consistently.
Vitamin E is an antioxidant to the skin. It can support the immune system, cell function and skin health. It can also be helpful to reducing UV damage to skin.
Arrowroot powder is my favorite ingredient in this recipe because it helps this body butter become non-greasy! It helps to absorb some of the oil feel from some of the ingredients while keeping your skin hydrated!
Alright, are we ready to get to whipping this up?
Winter Body Butter
212g Shea Butter
106g Coconut Oil
1/4+1/8 cups Arrowroot Powder
26g Jojoba Oil
1/2 tsp. Vitamin E oil
Optional 15 to 20 drops of essential oil
Directions:
Combine Shea Butter, Coconut Oil, and Jojoba oil in a double boiler on a low simmer. Gently stir until everything is melted.
Remove bowl from the heat and let cool for a few minutes. Place the bowl in the fridge for about 30-40 minutes until it cools and thickens. It will begin to turn opaque, and you should still be able to squish it with your finger. Set a times so you don't forget. If it does turn rock solid, remelt and do it again.
Add the arrowroot powder at this step along with the Vitamin E oil and the optional essential oils. Whip it up on high for about 3 to 5 minutes until peaks forms, similar to whipping cream.
Spoon and store in your container of choice. I love 4 oz mason jars for this. I keep them everywhere!
Some of my favorite essential oils for skin support is Lavender, Frankincense, Elemi, Cedarwood, Myrrh and Roman Chamomile.
These are the different stages you should see of the body butter…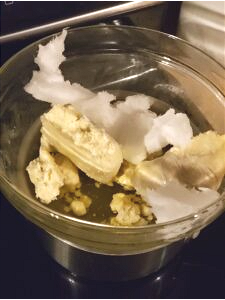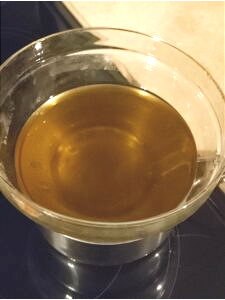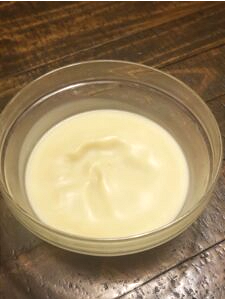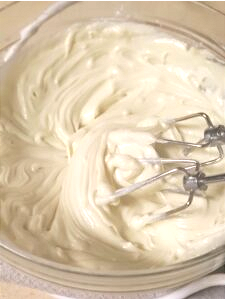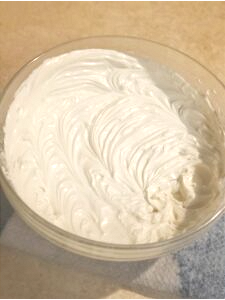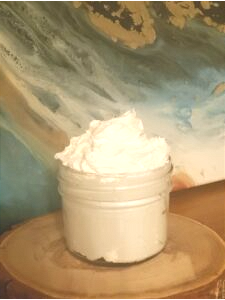 ****These are the oils our family has used for years (and that we know are safe for the uses mentioned above).
XOXO