This DIY Natural Bug Spray is sure to be one of the most used things for anyone who loves the outdoors. From adults, kids, babies and pets, it is safe AND effective! We use several different essential oils to cover many types of bugs we want to keep at a distance.
This is one of the easiest DIYs also because all you need to do is add everything to a bottle and then shake before using, it only takes minutes to whip up. This is a safe alternative to conventional bug sprays too that can cause great health concerns like I talked about here.
Why so many different essential oils in this DIY Natural Bug Spray you may ask?
I came up with this recipe years ago. Traditionally citronella is the popular plant/scent or bug repellant that most are familiar with, though after doing research on bugs and what they don't like, it's not just a one size fits all. Although, while it makes sense that citronella is still in here and there are definitely plenty of bugs that don't like it, other essential oils also can keep bugs away too! There are certain bugs that dislike other oils more, therefore this concoction came to be and it has served us well over the years!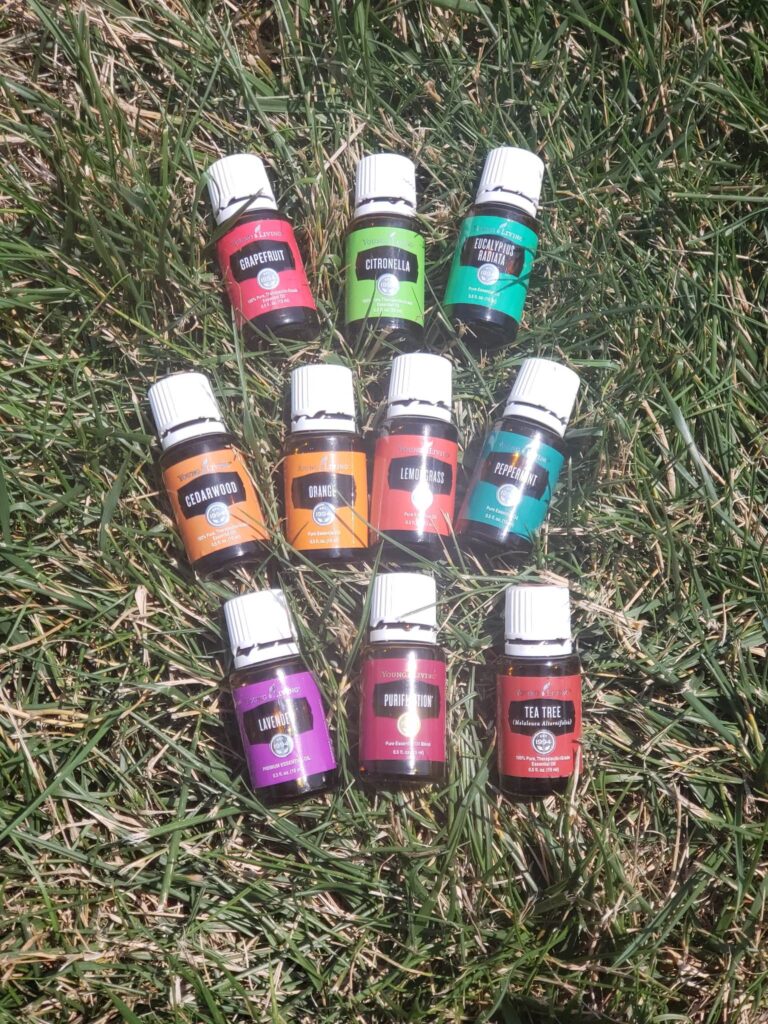 One of the benefits of having all of these oils on hand is that you'll be able to make bottle after bottle without breaking the bank! There are over 2,200 drops of essential oils between all of these and you only need 100 drops to make one bottle. That leaves you a ton left for either more bug sprays OR to use these oils in other ways. These essential oils are so versatile and are so beneficial to have in your collection.
Let's talk a little about what essential oils work better for deterring different bugs.
The great thing with essential oils is multiple oils can work for one thing. So feel free to mix it up, and you can mix and match for your preferences too!
Mosquitos – Citronella, Lemon, Eucalyptus, Peppermint, Basil, Clove, Thyme, Lemongrass, Geranium, and Lavender
Fleas – Cedarwood, Citronella, Eucalyptus, Tea Tree, Lemongrass, Lavender, Orange, Pine and Rosemary
Flies – Lemongrass, Lavender, Geranium, Peppermint, Basil and Spearmint
Spiders – Peppermint, Tea Tree, Orange, Cedarwood, Cinnamon, and Spearmint
Ticks – Geranium, Juniper, Thyme, Grapefruit, Oregano, Lemongrass, and Cedarwood
Ants – Tea Tree, Peppermint, Geranium, Orange, Rosemary, Cinnamon, Lavender, Spearmint, Black Pepper and Clove
This post contains affiliate links, which means I make a small commission at no extra cost to you. See my full disclosure here.
What you will need to make your DIY Natural Bug Spray:
Let's get to the how-to, shall we?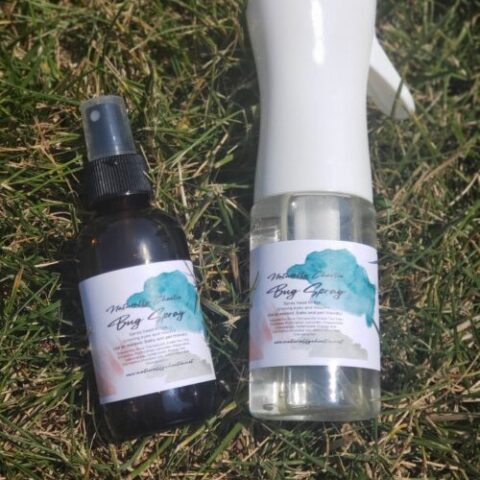 DIY Natural Bug Spray
This is a quick and easy homemade bug spray that is safe for adults, kids, babies and pets!
Materials
10 drops Purification essential oil
10 drops Citronella essential oil
10 drops Tea Tree essential oil
10 drops Lavender essential oil
10 drops Peppermint essential oil
10 drops Lemongrass essential oil
10 drops Cedarwood essential oil
10 drops Orange essential oil
10 drops Eucalyptus essential oil
Filtered Water
Instructions
This is Super Easy! All you need to do is add everything above to your bottle then top with the filtered water.
Shake before using.
Spray on anything and everyone!
Notes
I typically will have my kids stand arms out, eyes and mouth closed and spray head to toe, clothes and all. I pay extra attention to the feet, back of the neck and forearms.
Don't want to mess with a DIY, you aren't out of luck. This is the other one I love! It is an oil-based option, and one bottle goes a LONG way!!!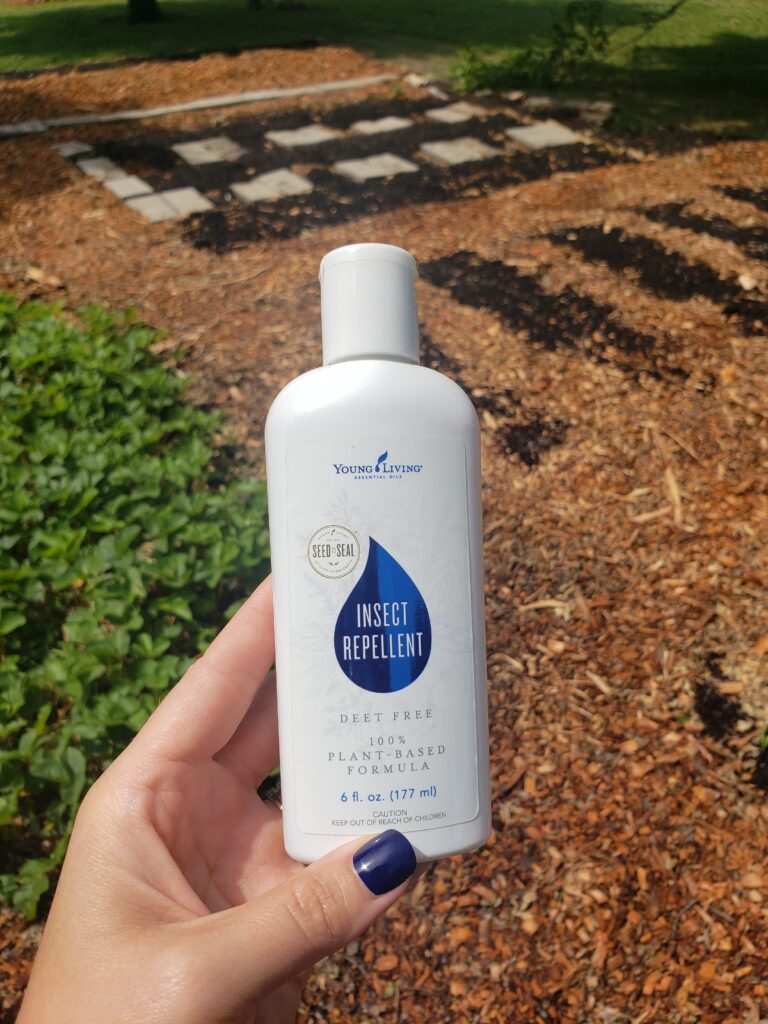 I typically put this one into roller balls to keep in my car, purse, diaper bag, swim bag, wherever. This one you just want to roll on the skin. Focusing on the pressure points, back of neck, behind knees, feet, ankles and forearms keeps it easy. It is AMAZING as well!!! And one bottle has lasted us years!
These are so cost effective but most importantly so SAFE! These essential oils are amazing and have so many other uses for them and they are all great to have on hand for various other things. With the Insect Repellant, when applying as a roller, you don't waste any of it either!
It's time to say goodbye to the chemical sprays that make us gag and are a hazard to our health!
You and your family are worth making the change, these options are worth it, your health is worth it!!!
If you want the easy button, this is what I have on hand for all things bugs DIY or the ready to-go Insect Repellant!
If you need rollers to dilute, I love these and these! These are a great option too for a collection of rollers and spray bottles!
These are the oils our family has used for years (and that we know are safe for the uses mentioned above).
I am not a doctor. I am just a Mama who loves finding natural options for her family. My education on oils is how our family has used these over the years and the benefits we have seen. You are the gatekeeper of your home and know your family so please keep that in mind while following us on this journey. Also, when speaking about essential oils, we use Young Living in our family and have for over six years. These are the oils that I have researched and feel comfortable with for our family. Not all oils are created equal.
If you try this recipe and love it, I would love if you could come back and give it 5 stars! Tag me on Instagram @naturallychaoticlifestyle!
Thanks for stopping by!