Peppermint is one of the older and most highly regarded herbs for soothing digestion and all of its uses and benefits are amazing! Not only does it pair amazing with chocolate but more importantly it can also help support the liver, respiratory system and help relieve headaches. But that is just the start of this little bottle. This is one to have on hand for when you need it!
A couple things before we get started. I am not a doctor, I am just a Mama who loves finding natural options for her family. My education on oils is how our family has used these over the years and the benefits we have seen. You are the gatekeeper of your home and know your family so please keep that in mind while following us on this journey. Also, when speaking about essential oils, we use Young Living in our family and have for over six years. These are the oils that I have researched and feel comfortable with for our family. Not all oils are created equal.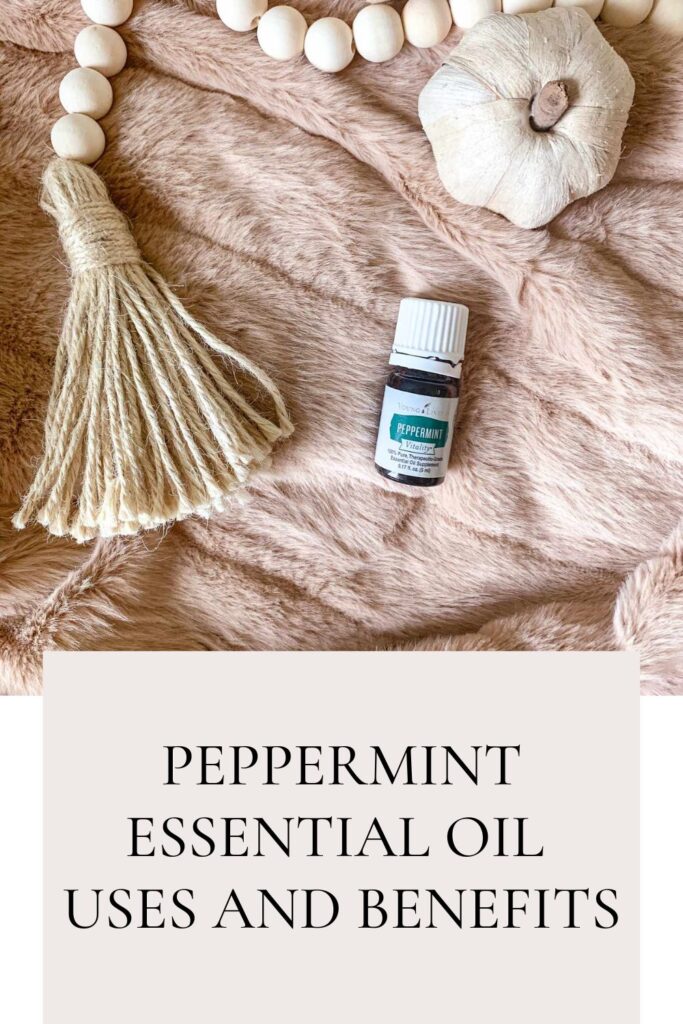 More details on Peppermint essential oil:
Peppermint essential oil, also known by it's scientific name, Mentha Piperita is steam distilled from the aerial parts of the plant.
It takes approximately 1 POUND of peppermint plants to make ONE 15 ml bottle of essential oil! Peppermint is native to Europe but these days The United States is responsible for producing 75% of the world's supply. The menthol in peppermint is what causes its cooling sensation. It activates the same receptor on nerve endings that are involved in sensing cold.
Alan Hirsch, MD also did a study that showed peppermints ability to directly affect the brain's satiety center, which is what triggers a sensation of fullness after meals.
It is known for having anti-inflammatory, antitumoral, antiparasitic, antibacterial, antiviral, antifungal, pain relieving, gallbladder/digestive stimulant and appetite suppressant medical properties. Having this one in your oil arsenal at home is a must, being a natural way to relieve aches and pains in the muscles and joints for those with arthritis, backaches, sprains, etc… It can also help areas that are inflamed, help with fungal issues, suppress appetite, relieve pain, support oral hygiene, and assist with viral infections. This oil can do SO much!!!
Use caution when applying oils like peppermint topically. It can be a very potent oil. Some can apply neat (directly on the skin) but unless I am dropping a drop on my head in the morning or for head tension support, I personally have to dilute. I also feel that diluting helps to spread further over the skin, making it go further as well!
What are the Key Constituents in Peppermint essential oil:
A constituent is a component or a part of something. Each essential oil has a different chemistry or makeup that it is composed of.
Peppermints main constituents is Menthol but is also made up of Menthone, Eucalyptol, Isoementhone, Menthofuran, Menthyl Acetate, Neomenthol, Beta-Caryophyllene, Limonene, Pulegone and more. That is a mouthful right? Will dive more into the main one.
Menthol has been shown to lower blood pressure and also has antibacterial qualities. It has been used for centuries to promote digestion and is recommended as an antiemetic. It also gives a cooling sensation that can help with pain relief and relief to skin irritation. Menthol is known for helping with a number of ailments including infections, insomnia and gastrointestinal issues. Also as a bug deterrent, it is a beneficial ingredient to help keep them away.
How to use Peppermint essential oil:
Aromatically – This is one of the most popular ways to use essential oils. By diffusing it, you will not only have a wonderful smell but will have aromatherapy benefits as well. You can also make up a room-spray, drop it straight on linens, or clothing for the aromatic benefits. My other favorite way is to drop a drop or two of my favorite scent and scrunch it into my hair for a subtle natural perfume.
Topically – Peppermint is considered a spicy essential oil and should be diluted with a carrier oil when applied to the skin.
Peppermint essential oil is amazing to make up in the form of a roller and apply to the back of the neck for a pick me up or just to help with relaxing tense muscles. We will talk more about making a roller in just a few.
Internally – You can add Peppermint essential oil to a veggie capsule and take with a large glass of water or under the tongue for internal use. It is also amazing to use to kick up your brownie recipe! Just start with a drop though as peppermint is very potent, you can always add more but you can't take away.
Not all essential oils are created equally and can be taken internally. There are several things to consider, the brand itself, the growing process and distillation process. When I speak of using oils internally, Young Living are the only oils I have used on myself or my family internally.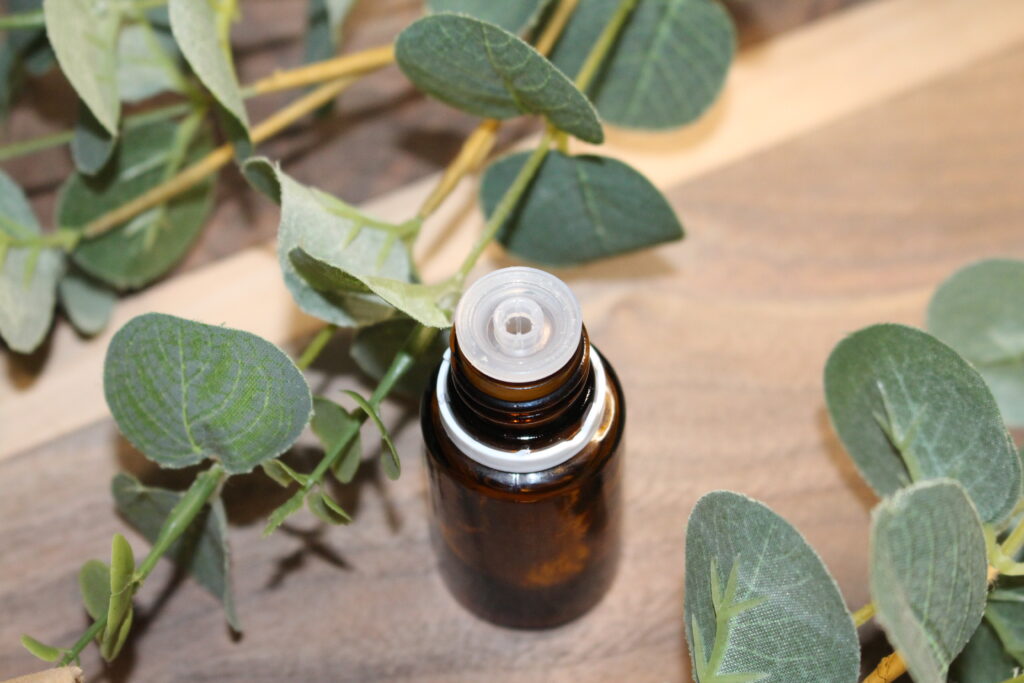 What is Peppermint essential oil used for?
These are some of our favorite ways to use Peppermint essential oil:
There are so many ways to use this oil but these are some of our families favorites and other popular ways to use it.
Diffuse for a fresh, minty scent
Apply diluted to the abdomen for digestive support
Can be taken in a veggie capsule, topped with olive oil for extra digestive support
Apply diluted to the temples and or back of the neck to help relieve headaches
You can support fevers with this oil too! (We typically never treat fevers and while this won't reduce a fever it will help cool the body and keep you comfortable while your body uses the fever to help fight whatever is causing the illness.)
Dropping a drop on the head in the morning can help with waking up and focus.
Amazing for the first trimester to smell to relieve nausea.
Mixed with lemon and lavender, it makes an effective allergy bomb to help relieve all of those fun seasonal side effects.
Keep a roller handy in the car if you get motion sickness. You can apply to the wrists or inhale slowly.
Diluting to calm eczema, it's like an ice pack on the go!
You can apply one drop to your thumb, press to the roof of your mouth to open and soothe sinuses
The list goes on. It has so many benefits!
Helps you feel full after meals
Diffuse nearby when you need to focus
It is great for a workout prep
Air conditioning on the go, dilute in water with a small spray bottle and mist on the back of the neck, behind the knees and wrists. It sends a cooling sensation to the brain, so cool! (Pun intended)
Bugs don't like peppermint, add it to your homemade bug spray.
You can spray it on your window sills, around door frames to encourage bugs to stay out.
It is great to spray in campers to keep pests away.
Can stimulate hair growth by increasing blood flow to the hair follicle
Touch a CLEAN toothpick to the opening of the bottle and stir into your tea for a minty treat!
Add a drop or two to your brownie batter for a chocolaty, minty treat!
Add to Epsom salts before adding to a bath to help soothe and relieve muscles.
This post contains affiliate links, which means I make a small commission at no extra cost to you. See my full disclosure here.
How to make roller bottles with Peppermint essential oil:
Roller bottles are one of the easiest ways to use your essential oils. If you need rollers to dilute, I love these and these!
Add 10-15 drops of Peppermint essential oil to a 10ml roller bottle.
Top with your favorite carrier oil. My favorite for roller bottles is either V6 from Young Living or Fractionated coconut oil.
Shake your roller bottle and use as needed.
Apply to pulse points, the spine, base of the neck, bottoms of feet or any area of concern.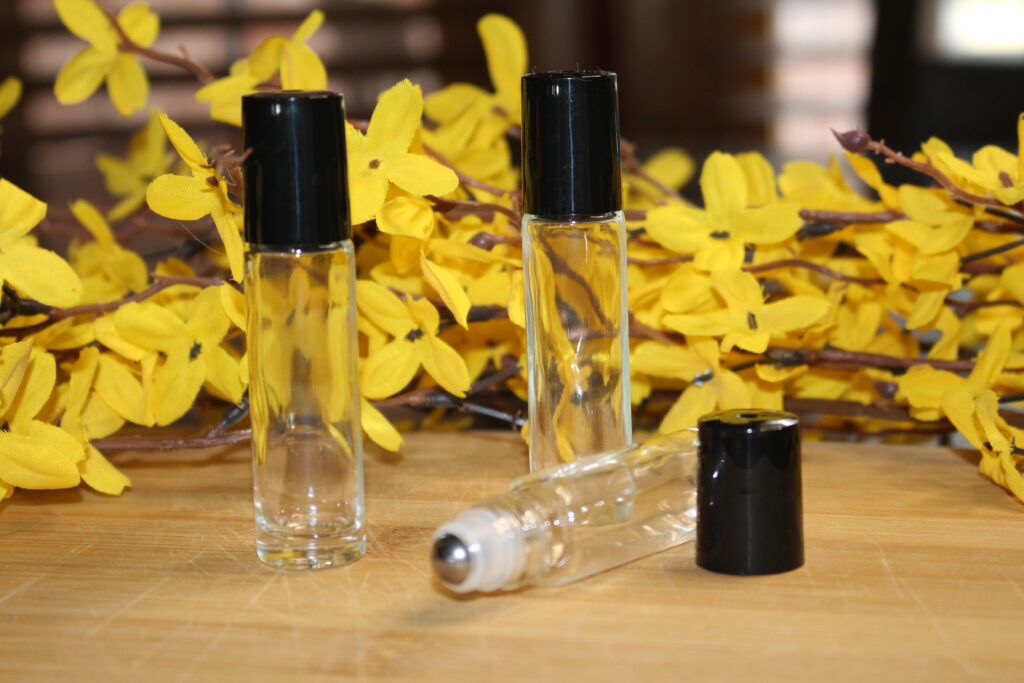 Peppermint Essential Oil Roller Recipes
Seasonal Support
10 drops Lavender
10 drops Lemon
5 drops Peppermint
Top with your favorite carrier oil
Headache Support
15 drops Peppermint
10 drops Wintergreen
5 drops Frankincense
Top with your favorite carrier oil
Learn more about other essential oils and their benefits too!
Lavender Essential Oil Uses and Benefits
What are your favorite ways to use Peppermint? This oil, just like the others can do so much! We love it for seasonal support and aches and pains for our family!
These are the oils our family has used for years (and that we know are safe for the uses mentioned above).
Remember, I am not a doctor, I am just a Mama who loves to share natural options that we use for ourselves and our kiddos that we have found works for us. I hope they can help you too! I'd love for you to follow along on more of our day to day on Instagram @naturallychaoticlifestyle!
Thanks for stopping by, see you next time!