These soft and chewy Chocolate Chip Oatmeal Peanut Butter Cookies are not only a healthier cookie but they are also incredibly filling. These make for a great grab and go in the mornings or when your kiddos need something to hold them over until meal time. I wanted a better option for a cookie that had cleaner ingredients and something that I didn't feel guilty grabbing for a quick breakfast or even a pre-breakfast. If you have kids that wake up ready to eat before breakfast you know what I'm talking about. You get to control the ingredients and they are quick to throw together.
These omit any white sugars and don't include flour of any kind. They are a favorite to bake in bulk and if you have been following along with me for anytime, you know I love to cook and bake things in bulk to be able to freeze for a quick grab. Not only does it save time but it also helps to have healthier options on hand when you are in a pinch and need a quick grab.
These are very easy to make gluten free as well!
Why you'll love these Chocolate Chip Oatmeal Peanut Butter Cookies!
Simple – This is a quick throw together recipe!
Clean Ingredients – One of my favorite things about baking from scratch is the ingredients, you get to control what goes in. These are made with ingredients that are easy to grab, most of which you probably already have on hand.
Freezer Stock – Did I mention they freeze great? Being able to freeze cookies is a super easy way to have a healthier treat when you don't feel like baking a whole batch. Or you can just bulk bake so you can grab and go as needed. We actually love these cold from the freezer too! These reusable gallon freezer bags are great for a less waste option and actually are way more budget friendly in the long run!
This post contains affiliate links, which means I make a small commission at no extra cost to you. See my full disclosure here.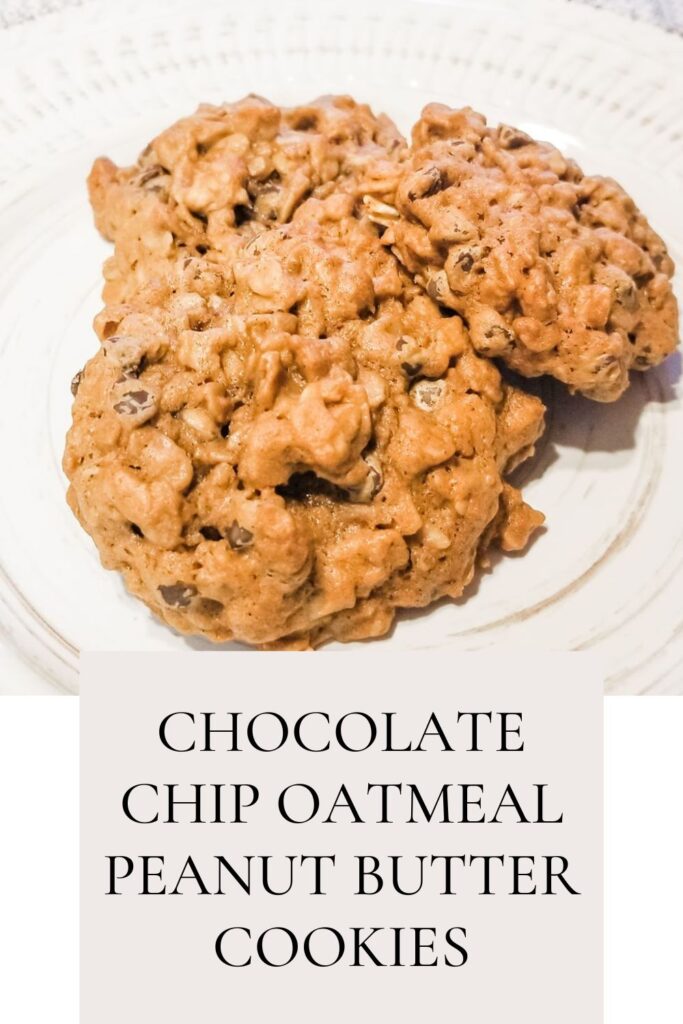 What ingredients are needed to make these Chocolate Chip Oatmeal Peanut Butter Cookies?
I order quite a few of my items from Thrive Market. They make it easy to find clean ingredients and ship straight to my door. If that is something you are interested in, here is a link to try it out and you can get 40% off your first order!
Butter – Use the real stuff. Good fats are so good for you.
Coconut Sugar– Coconut sugar, while still sugar, isn't as processed and is better for your blood sugar with having a lower glycemic index and is better for the gut.
Maple Syrup– This adds flavor while naturally making them sweeter.
Baking Soda – These will help them rise a bit.
Eggs – The eggs will help to make them a little fluffy and airy since there is no flour in these cookies.
Vanilla Bean Paste or Vanilla Extract
Natural Peanut Butter– Look for a natural peanut butter with no added sugars.
Salt
Mini Chocolate Chips – You can use any type of chocolate chip or chocolate chunk but the minis incorporate so well throughout the cookie.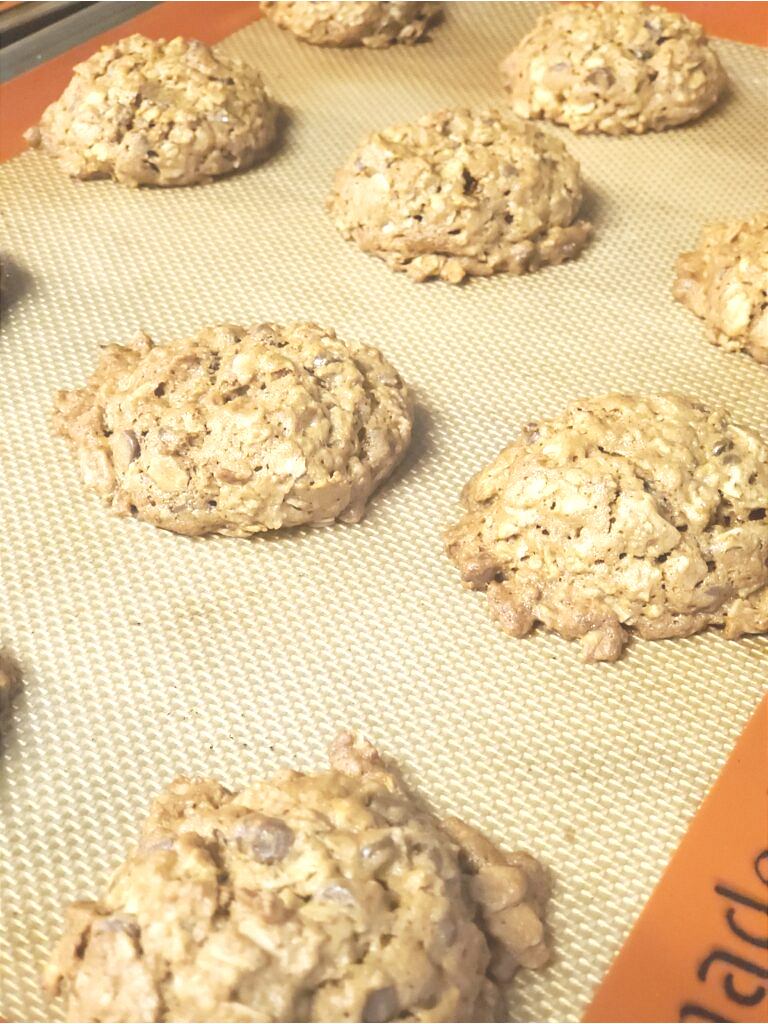 Tools you may need for your recipe:
Sheet Pans – Stainless Steel pans are the best for even cooking.
Parchment Paper or Reusable Nonstick Silicone Mats – I have had these reusable ones for almost 10 years!
Dough Hook or Spatula – Everyone needs a dough hook in their kitchen!
Hand Mixer or Stand Mixer – This is my favorite stand mixer!
Measuring Cups and Measuring Spoons
Cooling Racks – These stackable ones are great!
How to make Chocolate Chip Oatmeal Peanut Butter Cookies:
Prep:
Have your butter and eggs at room temperature. Go ahead and pull out all of the rest of your ingredients and tools that you will need and preheat your oven to 350 degrees.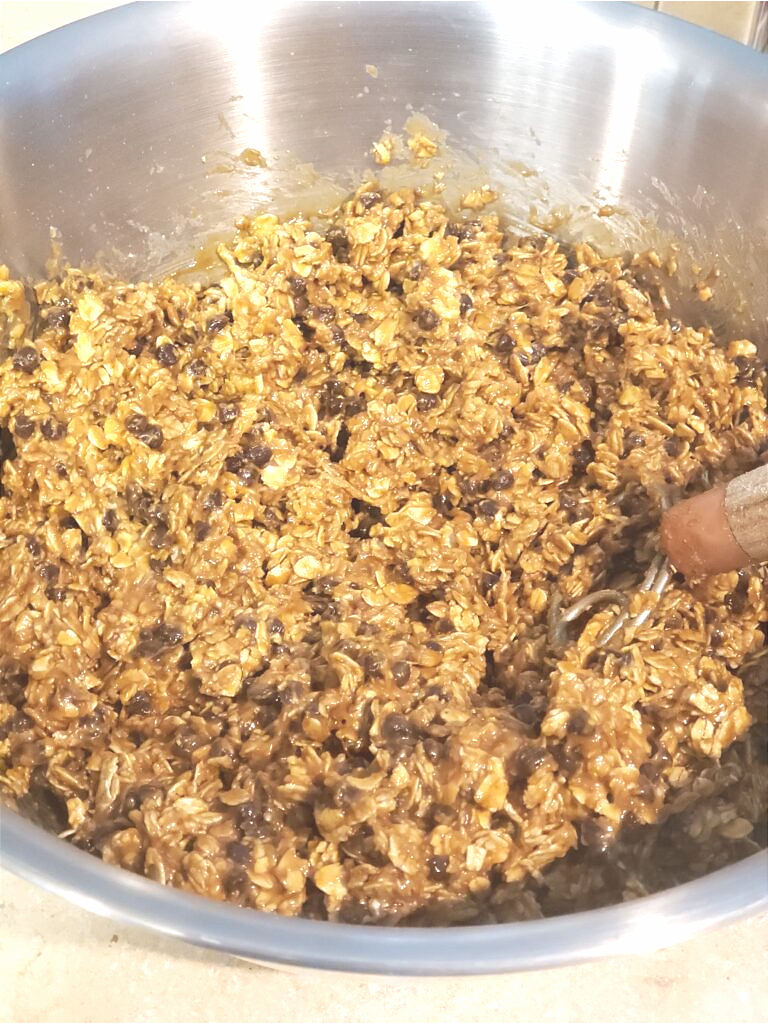 Let's bake:
Cream together your butter and coconut sugar for a minute until it is light and fluffy. Then add in your maple syrup, eggs and vanilla and continue mixing. The Peanut Butter, cinnamon, salt and baking soda come next, mix it all together until well combined. Last is the oats and mini chocolate chips, mix those in and then you are ready to bake.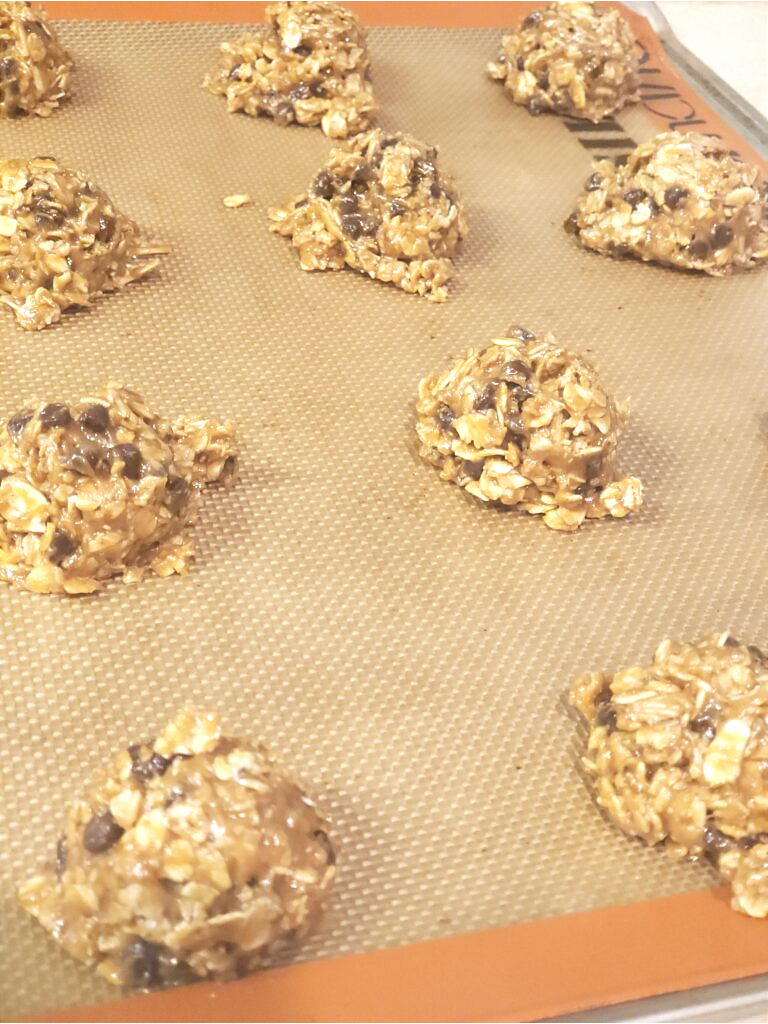 Prep the cookie sheets:
If you are using the silicone mats then you just need to lay those on the cookie sheets. If you are using parchment paper it helps to tear off your sheet, crinkle it up and then flatten it back out so it lays flat on your cookie sheets without trying to roll back up.
Scoop one tablespoon onto your cookie sheet leaving space for them to spread a bit. These won't spread too much though.
Bake:
You will bake these in the oven at 350 degrees for 13 to 15 minutes.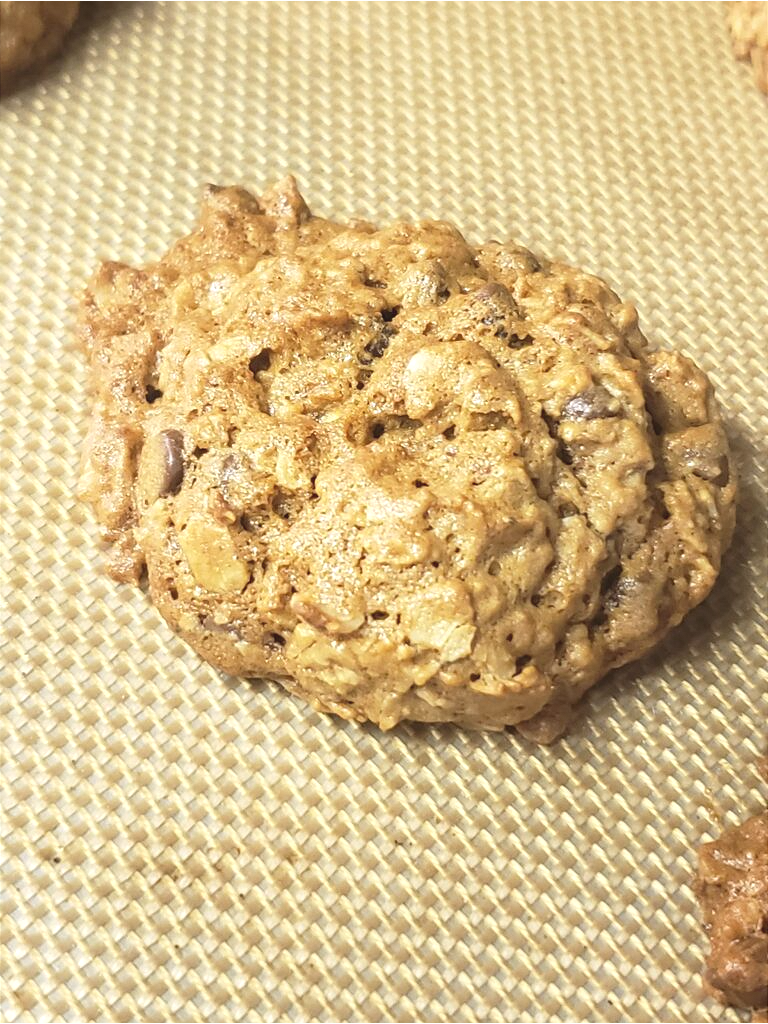 Cool:
Once they come out of the oven you will want to let them cool on the cookie sheet for about 5 minutes before transferring them to the cooling racks to finish cooling completely. If you happen to eat one before it makes it there though, that's ok too!
Enjoy!
FAQs:
Does it matter how I add the ingredients in?
Yes, you want to mix all of your wet ingredients first and then add in your dry ingredients to make sure everything is evenly mixed.
Do I have to use Natural Peanut Butter?
You don't, BUT most peanut butters have a lot of added sugars in them so just check your ingredients.
How to store these cookies:
Store in an airtight container for up to 5 days. These freeze and thaw amazing so we tend to keep some out and freeze the rest to pull when we are ready. Or eat them straight from the freezer!
If you try this recipe and love it, I would love if you could come back and give it 5 stars! Tag me on Instagram @naturallychaoticlifestyle!
Thanks for stopping by, see you next time!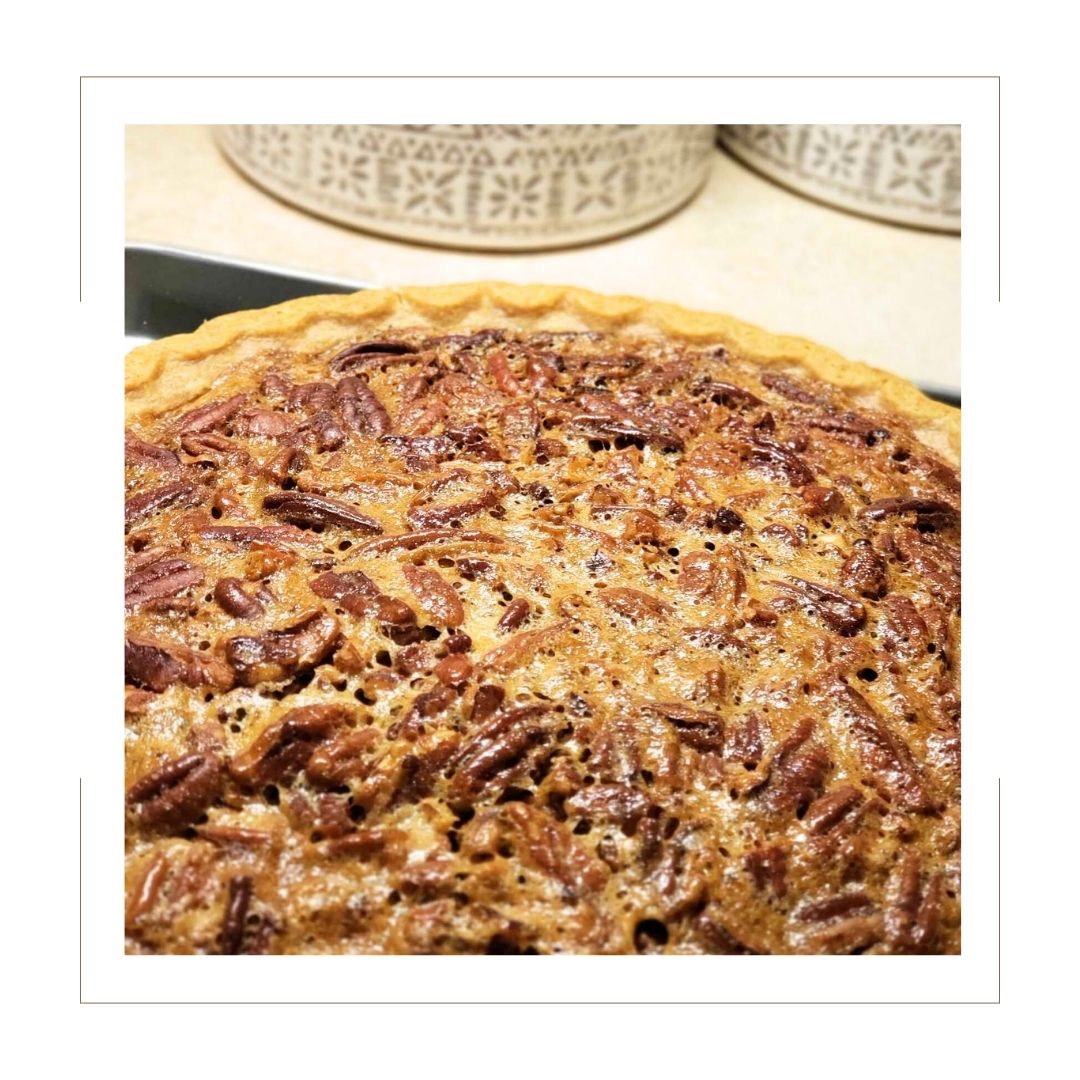 The Best Pecan Pie
Total Time:
1 hour
5 minutes
This crunchy, nutty, sweet dessert is perfect for anyone who loves pecans!
Ingredients
1/2 cup sugar
1/2 cup brown sugar
1/2 tsp. salt
1 cup karo syrup
3/4 tsp. vanilla
3 eggs
1/3 cup melted butter
1 1/2 cup pecan pieces
Pie crust (store bought or homemade)
Instructions
Preheat your oven to 350 degrees.
Have your eggs at room temperature and have your butter melted and set aside.
Mix together your cane sugar, brown sugar and salt.
Add in your karo syrup and vanilla and mix.
Mix in your eggs until well combined.
Add in your melted butter. IF your butter is still warm at all, drizzle slowly to temper your eggs. Remember, we don't want scrambled eggs.
Add your pecan pieces to your pie crust.
Pour your pie filling over your pecan pieces, do not stir in.
Let your pie set for about 10 minutes or until your pecan pieces start to float to the top.
Cover your pie with foil and bake for 30 minutes at 350 degrees.
Remove the foil after 30 minutes and continue to cook for another 20 minutes.
Everyone's oven is different so once your 20 minutes is up, you will want to start checking your pie every 5 minutes until the center of the pie is set. You do not want a pie that jiggles when you remove it from the oven.
Once it is set, remove from the oven and let cool.
Enjoy!